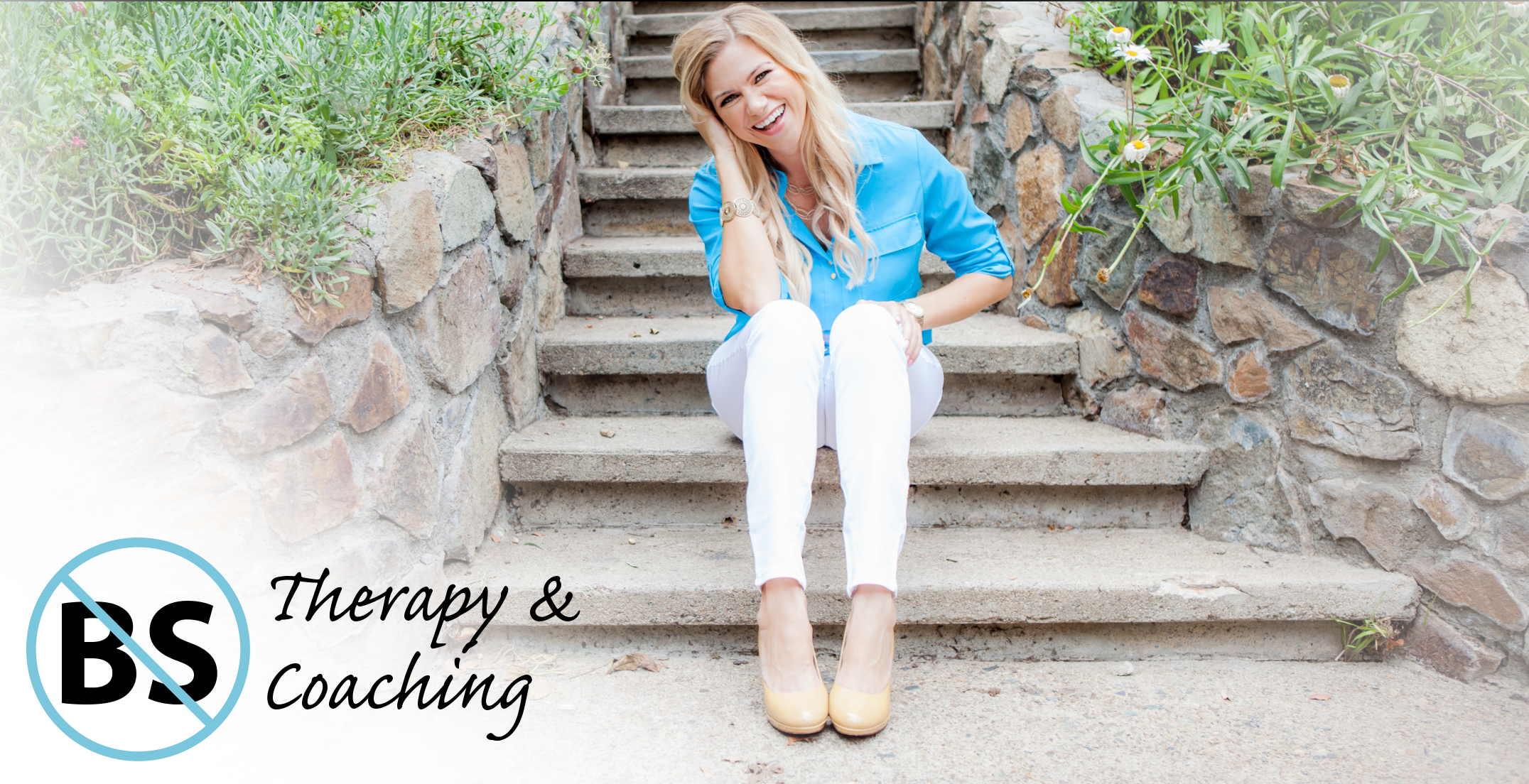 You've tried it all
Months and even years of therapy
Alternative healing
Changed your diet
Exercised more
Doctor visits
Medications and supplements
Journaled your thoughts
Shifted your thinking
Affirmations Galore
Reached out for support
​
...And yet, you are hopeful.
You know you are meant to thrive.
You know you are meant to feel happy, free and empowered but something keeps holding you back.
​
If only you knew what it was, then you could do something about it.
This is your answer.
No BS Therapy is the key to solving your problems. It's no BS!
Amy Turner is the First Rapid Transformational Therapist in California.
A Message to YOU:
Why are we told healing has to be a long, drawn-out process?  Who has time for that?  We are an instant gratification society and why can't our healing be instant as well?  That's where I come in.  I'm not your typical therapist or coach.  I'm a no BS type of woman and I've called out my own BS "not good enough" limiting beliefs and now it's time to call out your limiting beliefs!  I specialize in Rapid Transformational Therapy which means that you will feel healing after the first session.  It beats sitting on a couch for years and still not knowing why you continue to self-sabotage.
Rapid Transformational Therapy (RTT) combines hypnotherapy, NLP techniques, Cognitive Behavioral Therapy, life coaching, and emotional healing all in a 90 minute to 2-hour session.  I am the first and only person in San Diego that specializes in it and there is nothing out there like RTT.
RTT is designed to give you rapid results by first identifying your limiting belief; second, finding the root cause of that belief; third, releasing that past belief; fourth, creating your new empowering belief. It's time to get your life back and empower your true self to thrive!
Book your FREE 60 Minute Consultation Today.
Thank you Amy Turner for an Amazing session we had together here recently. I had a huge transformational Shift in my mindset and overall life following this session.  Over the first 48 hours I could feel the difference and the relevance Amy helped me to uncover about my past emotional issues and growth blocks in dealing with a specific family member and certain events that happened in my younger years.  Something I had never put together consciously is what she helped pull out of me subconsciously.
I heard rave reviews about Amy and her "No BS Therapy" and then met her at a local conference here in San Diego in December 2016.  She was enlighting, happy, full of positive energy and ready to help me grow when I explained what I was looking for in taking my life to the next level.
Thank you Amy and for anyone looking to transform their life or simply overcome any negative obstacles and blocks in your life, this was a "One" 90 minute session that I did with her and I felt an Amazing shift, growth and difference.  Check out her website and give her a call. Be ready for direct therapy work that you won't regret…because it's "No BS Therapy!"
Amy is such a pleasure to be around! She is very genuine in her intentions and knowledgeable about mental health. I'm very familiar with traditional Western therapy (talk therapy) so Rapid Transformational Therapy was a refreshing & surprisingly effective method. I was extremely pleased with the process and results of Amy's approach. The recording I received is such a crucial component so be sure to follow through on your responsibility of listening to it for 20 days after your session. All in all, I recommend Amy to any one who wants to get to the bottom of what is holding you back. I can truly say I have made leaps forward in my self-development because of my experience with No
BS
Therapy. Thank you!
After hearing about Amy's unique approach to life coaching and therapy, I had to try it out for myself. I have never attended anything related to therapy or life coaching, so I was both nervous excited. I questioned if it would work for me because I'm pretty stubborn. When I got to Amy's beautiful Solana Beach office greeted by her calm demeanor, I was no longer nervous. As she went through her processes, I got more and more comfortable and was able to actually get put into a state where she was able to find the root of my problem. Amy was able to help me find my strength and my fear. I left her office feeling so happy, so excited, and ready to take on the world. Since my session over a month ago, I have actually furthered my career because I no longer have sand bags holding me down. Amy has made such a tremendous difference in my life and I thank her for that. Give yourself the opportunity to experience "No BS Therapy" and you will walk away a more fulfilled person.
I really appreciated the phone calls I had with Amy before jumping into the RTT session. She is very thorough and is so easy to talk to. I went into this unsure if RTT will work for me and by the end of the phone calls I knew I was ready. That's the best thing with Amy, she didn't pressure me to commit to anything. The session I had with Amy was amazing. It showed me all the emotions I was carrying all these years. I left Amy feeling like I was floating on a cloud. The 3 follow up phone calls I had were very helpful too. She takes the time to listen still and encourage me to be on the right track. Overall I would definitely recommend Amy.
Amy is truly a breath of fresh air! She is a great listener and diligent in her approach. Amy is certainly committed to providing the best to her clients. Her process and approach is highly professional. I have to say, with such a saturated business, where any can claim to be a life coach, Amy is exceptional. She has the education and experience to provide the guidance you need to overcome any challenge.
I found Amy in a very difficult time in my life–my husband just left me and I was feeling rejected and lonely and wanted him back.  Before I even started working with Amy, she spent two hours of her time with me on the phone, she didn't have to do that and she didn't know if I was going to be her client, but she did it and I knew she cared.  I was hesitant about the cost but she reassured me that if I didn't feel I got what I needed from our time together she would throw in another session.  A month later I can happily say this was the best money I've ever spent!  It literally is like 10 years of therapy
in 2 hours
.  I now am back to going out with my friends again, laughing and having a good time where I used to isolate and feel lonely before.  I'm in acceptance of my relationship and I'm a much stronger woman, setting boundaries and I'm even going on dates now.  I no longer care what my ex is thinking and I'm choosing me first.  I can't believe I've changed so much in only a month and the best part is, I know I'm not going to backslide.  This is life changing!  I don't understand why it works, but it works and I am looking forward to what life has in store for me.  Thank you so much Amy.
My financial reality dramatically shifted after my first coaching session with Amy. I was overwhelmed with financial pressure at the time, but 24 hours after attending her group session, my business experienced its most profitable day, ever. I only changed the way I perceived and related to money, using Amy's technique… I didn't change anything about my business, yet I suddenly received an unusual number of new clients, and without any effort on my part, they all booked my premium service. This used to happen 2-3 times a week, but it happened 4 times today alone! Even better is the sudden lack of anxiety over money, as well as no longer feeling like it's greedy to want it… Instead, I actually have a heartfelt satisfaction when I think of money now, because the technique Amy taught me has completely transformed the way I feel about it. You can't afford NOT to hire Amy.
Look No Further. Get Started Today